The battery is an essential component of an electric bike, just like the engine. Without a battery, your electric bike is useless. Also, this is one of the most expensive parts of your e-bike.
Like other electronics, e-bikes come with built-in software, and some electric bike battery problems in the system require battery reset. You cannot resolve the issues like wiring or damage through battery reset. However, a Battery Management System reset can fix most battery issues.
When it comes to the reset of the e-bike battery, it is different from other batteries. However, it looks like a lithium-ion battery still requires other solutions to address the problem. You are on the right page if you want to know how to reset an electric bike battery. Here I will share a step-by-step guide for better understanding. To learn everything, read here.
How To Reset Electric Bike Battery?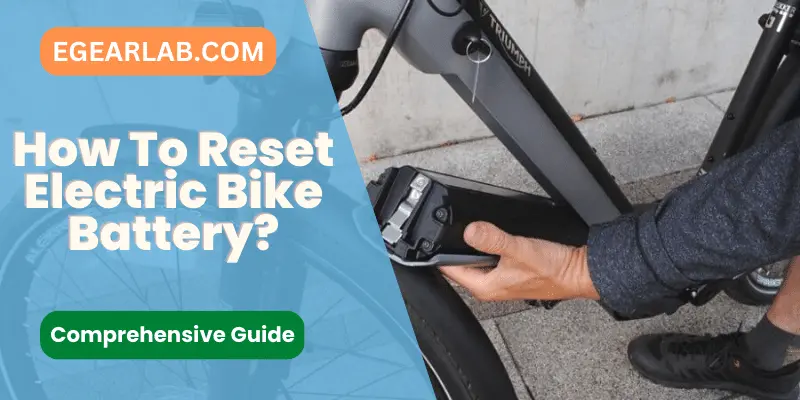 Before getting into electric bike battery reset, you should know about the battery components. There are no complicated parts here. A regular e-bike battery has the following parts:
1. Battery Meter
2. Battery Cells
3. BMS System
To resolve all major problems, you must do an e-bike battery BMS reset. This is not an everyday activity and needs to reset when you have to change the battery. To do this, you have two options, i.e., internal BMS reset and reverse charging. However, the recommended method is an internal BMS reset. You can do this by following these steps:
Necessary Tools for an E-Bike Battery BMS Reset
How to reset e-bike battery? If you have a removable battery, you can do the resetting task without any tools. However, for other batteries, you have to grab some tools for an effortless process. Make sure to keep in mind your ebike battery weigh.
Wire cutters, in case of huge battery failure.
Black wire to repair BMS damage.
DC barrel jack to handle the wiring.
Multimeter measurement tool for safety.
Steps to Reset Electric Bike Battery BMS Reset
Step 1: Turn Off The Power
Firstly, turn off the power by clicking the master toggle. You can find this on the side of the control box. To keep the process safe for you and your device, ensure no electricity is running in it.
Step 2: Loosen Outer Casing Screws
Use screwdrivers to loosen the top cap of the battery. You just have to remove a few screws to get excess to the battery system. Here you can see the battery cells, BMS, and other wirings or connections.
Step 3: Remove The Connectors
The BMS chips are placed between the connectors to ensure safety and need removal. To reset it, carefully remove the connectors and take out the BMS. This way, you can easily reset it.
Step 4: Cut The Wire Harness
To continue the process, you have to cut the wire harness. However, it requires extra care and precision. Therefore, stay focused while doing this task.
Step 5: Connect The Charger
To progress into resetting, connect the charger to the battery. This is an important step in resetting the BMS. If your battery sparks, read my detailed guide on why does eBike battery spark while connecting.
Step 6: Reattach The Wire Harness
Once the battery gets fully charged, reattach the harness to fasten and BMS carefully. This is the last step of this apparently challenging task.
Step 7: Test The Battery
Turn on the power and check if the battery is working correctly. Also, check the charging and discharging timing to ensure a successful process. How to discharge e-bike battery? There is no rocket science behind this; just use the battery completely.
You may also want to know how to carry spare e bike battery.
FAQs of E-Bike Battery Reset
Can you charge a lithium battery without BMS?
Yes, you can quickly charge a lithium-ion battery without BMS. These batteries are different from e-bike batteries but look similar in design. Therefore, you can charge them with no BMS.
Can lithium batteries be brought back to life?
Lithium batteries have a short lifespan; with time, they lose their charging and discharging capacity. After some time, they become dead. However, the Department of Energy's SLAC National Accelerator Laboratory and Stanford University share research, and its results show that you can revive lithium batteries.
Why do I need to reset my ebike battery?
When you fail to find any visible battery issues, then resetting the ebike battery is a recommended solution. Also, a battery reset helps to increase lifespan and efficiency. However, this is not only for repairs; you can also do this to enjoy battery upgrades.
The Bottom Line
Now you know how to reset the electric bike battery, which is a required skill for electric bikes. It will save you a lot of money because restoring an old battery is better than buying a new battery. Also, this simple skill saves your time and battery replacement hassle. If you notice any invisible battery issues, go for a battery reset.

Hi, I'm Robert A. Cannon, Electrical Engineer by profession and travel enthusiast! I has been passionate about building electric circuits and remodeling since my childhood. Following my passion, I graduated as an Electrical Engineer from University of Houston and turned my passion into a profession. I have worked in different electric vehicle manufacturing companies.
Following my professional expertise and experience in using different electric vehicles, I started EGearLab to assist the community in finding the right e-gear for transportation according to their needs. Feel free to contact me at anytime for queries related to electric outdoor vehicles!