When it comes to safety then most people prefer riding bikes that offer good riding speed. Electric bikes are comparatively safer than other bikes because of their smooth and convenient speed limit. Newbies are concerned about speed restrictions since they are operationally in the learning stage so electric bikes should be the harmless option for them.
Many of you must be thinking how fast can an electric bike legally go? Well, in this article, I will tell you some basic speed rules regarding electric bike speed limits stated by the law.
To remain unhurt or unharmed it is important that you should know the safety measures given by the state for electric bikes. Read the article to know about electric bike speed limitations in order to experience healthy riding.
How fast can an electric bike legally go? – Detailed Answer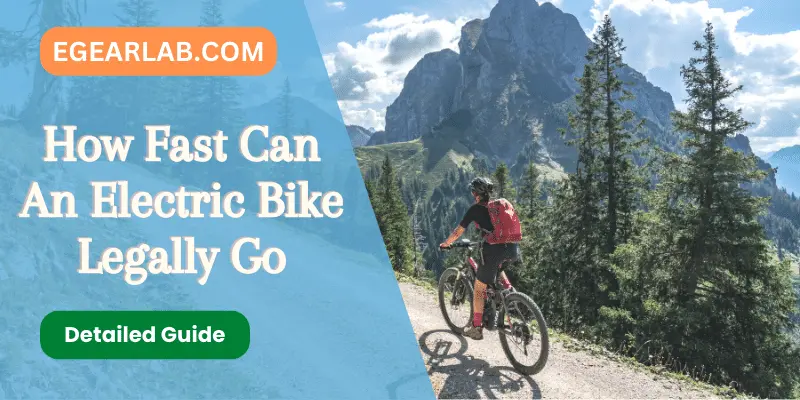 The state formulates the rules keeping in mind the benefits of the society. Nowadays, electric bikes have become a good source of entertainment and many people love riding them for daily commuting as well.
Many young adolescents like to experience electric bike riding as it looks cooler than other traditional bikes. Electric bikes are more demanding and popular because of their easy riding and faster speed.
They improve your physical health as you nearly get the experience of working out while riding steep mountains. Also, an e-bike is considered best for fitness, commuting, and recreation.
When an individual gets the command in riding electric bikes then they can ride it with different styles. Electric bikes are becoming the choice of many anglers, hunters, and overlanders.
Electric bikes are quite fast and they sometimes can lead to serious accidents and harmful injuries. Keeping in mind the popularity and usage of electric bikes, the speed limit laws are being given by the states.
To prevent serious injuries and unexpected deaths it is important that our youth follow the rules and regulations developed by the Nation.
Also read about: Can you ride an electric bike without license!
Legal Electric Bike Speed Limit Classification
Different speed limit rules were developed after once noticing the increased usage of electric bikes all over the world. It made it compulsory for everyone to consider and follow these rules to prevent mishaps and unfortunate accidents. Electric bike weight also plays a vital role in the speed of E-Bike.
In terms of speed, 26 states basically follow the three-class system. The three-class system tells how an individual can adapt to the speed and eclectic bike motor according to the different levels of the e-bike.
Class 1: In class 1 there is only one pedal assist, which means that your required and assisted speed will be 20mph (32 kmph).
Class 2: In class 2 there is a twist throttle assist motor only, which provides maximum power to the motor with a speed of 20mph (32 kmph).
Class 3: In class 3 classification is the most restricted one, which again has one pedal assist but the maximum speed is 28mph (45 kmph). These bikes are not allowed on normal biking paths but are best to be used for off-road climbing.
Pedal Requirements
The pedal is basically required for electric bikes as it saves your energy and gives a comfortable riding experience. If you own an electric bike then you must make sure that its pedals are fully functioning and operating. The pedals help you move faster and reach the required place in less time. Also, the pedals are required for riding steep hills or when you are going up.
You may also want to know about can I take an electric bike on a plane
Electric Bike Helmet Laws
By following the speed limits it is important that you also use other precautionary measures too. The helmet requirements are necessary to know while you are riding electric bikes. The helmet keeps your head safe and protects it from serious internal wounds. Bike accidents are usually quite common so it is better that you wear a helmet in order to prevent deaths and head injuries.
E-Bike Safe Passing Law
It is important that bikers should get a safe path for riding electric bikes. Well, keeping this matter in mind the state has allowed specific passing paths. The electric bikers can now enjoy the riding experience safely without causing any damage to nearby people.
If you're e-scooter rider, you may also want to know can I get a dui on an electric scooter
Frequently Asked Questions
Why are e-bikes limited to 15 mph?
The electric cycles are limited to 15 mph because of the speed limitations given by the law. To keep your riding journey safe and harmless it is important that you follow the speed rules.
Why are e-bikes limited to 20 mph?
The e-bikes are limited to 20mph as it encourages the riders to pedal, which is obviously good for their health and fitness.
Why are e-bikes speed limited?
The e-bikes speed is limited because the fast speed may lead to injuries and serious accidents.
Can an electric bike go 60 mph?
Yes, an electric bike can go 60 mph but in such cases, they need to be used for off-road climbing.
Final Remarks
Well, I hope that now you can follow the appropriate speed limits that are stated by the Nation. The assigned speed will keep you safe and you will be able to enjoy a smooth riding experience.
Also, make sure that you follow other precautionary measures as well to reduce the chances of damage. Following the awareness campaign will prevent unfortunate accidents from happening. Now, you can easily buy electric bikes and enjoy the riding experience to the fullest by just following the proper rules and regulations.

Hi, I'm Robert A. Cannon, Electrical Engineer by profession and travel enthusiast! I has been passionate about building electric circuits and remodeling since my childhood. Following my passion, I graduated as an Electrical Engineer from University of Houston and turned my passion into a profession. I have worked in different electric vehicle manufacturing companies.
Following my professional expertise and experience in using different electric vehicles, I started EGearLab to assist the community in finding the right e-gear for transportation according to their needs. Feel free to contact me at anytime for queries related to electric outdoor vehicles!