Micro-mobility has replaced the conventional two-wheelers by introducing electric ones that are more comfortable, inexpensive, smooth to ride, eco-friendly, and overall better in experience.
Now, commuters have begun to realize and move their votes towards electric bikes for their reliability and portability, while the debate on the electric bike vs scooter for commuting is still unfinished. Don't worry, I'll compare the features of both in this article for your better understanding, so let's begin!
Electric Bike Vs Scooter For Commuting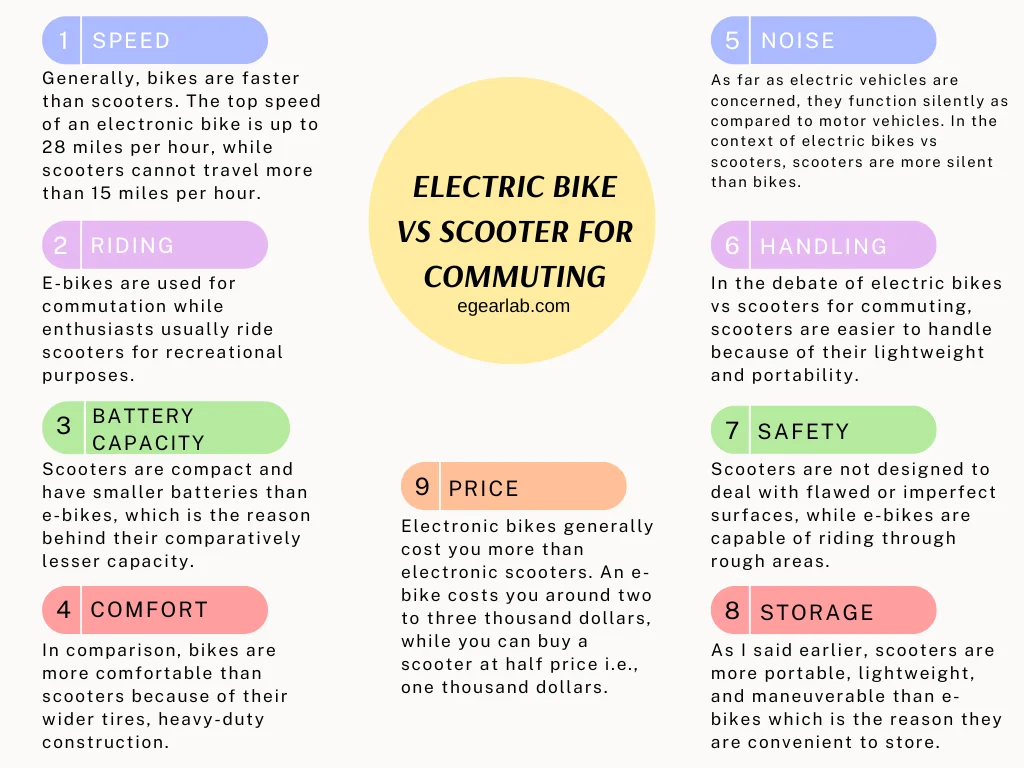 1. Speed of E-bike vs E-Scooter
Speed is a striking parameter when we talk about vehicles. There are several factors that influence the speed like the weight of electric bike or scooter, battery power, tire type, and even the road surfaces.
Generally, bikes are faster than scooters. The top speed of an electronic bike is up to 28 miles per hour, while speed of electric scooters isn't more than 15 miles per hour. It is clear that e-bikes outrun the scooter in terms of speed.
2. Riding Purpose
E-bikes are used for commutation while enthusiasts usually ride scooters for recreational purposes. On the sidewalks or walkways, you'll often see e-bikes rather than scooters.
According to manufacturers, the design of both is different and so are their purposes, but that doesn't mean any serious restrictions as you can commute using a scooter too. Scooters are great for mini traveling around parks or in the premises of your education institute, in my opinion, while e-bikes are good for long distances.
3. Battery Capacity of Electric Scooter vs Bike
Scooters are compact and have smaller batteries than e-bikes, which is the reason behind their comparatively lesser capacity. So, if you're searching for high-range and elongated battery life, e-bikes are recommended.
Please don't forget to check the specifications section of the model of the e-bike or scooter you're purchasing because the battery capacity variates with the model.
4. Comfort
Comfort is a key factor, and you should never compromise on it to be on the safe side. In comparison, bikes are more comfortable than scooters because of their wider tires, heavy-duty construction, better stability, and overall improved riding experience.
With the flip of a coin, the scooters are lightweight, portable, and provide average comfort; that's also the reason why scooters are not recommended for distant riding.
5. Noise
Noise not only frustrates you but also deviates your concentration from the ride. In cars, you can minimize the noise through windows or doors, but that's not the case with bikes.
As far as electric vehicles are concerned, they function silently as compared to motor vehicles. In the context of electric bikes vs scooters, scooters are more silent than bikes.
You may also want to read: can you get dui on an electric scooter
6. Handling Electric Bike vs Scooter
Riding a bike is fun but equally risky as you may fall from a two-wheeler. That's why handling is another concern!
In the debate of electric bikes vs scooters for commuting, scooters are easier to handle because of their lightweight body, maneuverability, and portability. On the other hand, controlling an e-bike is a bit challenging for newbies because of its design and weight.
7. Safety
Road surfaces are of different kinds like flat, bumpy, potholes, pavement, etc. Scooters are not designed to deal with flawed or imperfect surfaces, while e-bikes are capable of riding through rough areas. That's because of the wheels!
Electronic bikes come with wider and larger wheels that are strong enough to combat external pressures like heat, water, irregular surfaces, and so forth. In a few words, e-bikes are more resistant and versatile than scooters.
8. Storage
As I said earlier, scooters are more portable, lightweight, and maneuverable than e-bikes which is the reason they are convenient to store. Scooters are smarter than e-bikes and don't require much space for storage as compared to heavy-duty bikes. But, the trend is changing and the market has introduced folding electric bikes recently which are way more portable and easy to store.
9. Price of Electric Scooter vs E-Bike
Price is another important consideration to compare e bikes and scooters. Electronic bikes generally cost you more than electronic scooters.
An e-bike costs you around two to three thousand dollars, while you can buy a scooter at half price i.e., one thousand dollars. Opinionatedly saying, please don't rush for the cheapest options by taking the other features for granted. Also may also have a question in mind i.e. are e bikes worth it.
FAQs about E-Scooters and E-Bikes
Is an electric bike better than a scooter?
The answer to this depends on your riding style and need. For commuting, electronic bikes are preferred over scooters for their strong build quality, better stability, wide tires, and more. In comparison, the scooters are best suited for enthusiasts for their portability and easy handling.
Does an electric scooter go faster than an e-bike?
No, e-bikes are faster than scooters and are considered practically better and more efficient for commutation. The top speed of an electronic bike is up to 28 miles per hour, while scooters cannot travel more than 15 miles per hour.
Is an electric scooter good for a long drive?
In my opinion, scooters are not best suited for long drives considering their speed, stability, comfort, and other features. However, some modern high-power e-scooters might not disappoint you. But please make sure to buy at least a 150 cc scooter for long distances.
EScooter vs EBike: Which One Is Better?
For commuting, electronic bikes are better for their rough and tough build quality, high stability, elevated comfort, and excellent capacity. But handling a bike is more challenging than a scooter for beginners, so with respect to this aspect, scooters are winners.
Also, the price is another determining factor here because e-scooters are half-priced as e-bikes. The final decision is all yours, but I suggest you buy an e-bike or at least a 150 cc e-scooter for commuting.

Hi, I'm Robert A. Cannon, Electrical Engineer by profession and travel enthusiast! I has been passionate about building electric circuits and remodeling since my childhood. Following my passion, I graduated as an Electrical Engineer from University of Houston and turned my passion into a profession. I have worked in different electric vehicle manufacturing companies.
Following my professional expertise and experience in using different electric vehicles, I started EGearLab to assist the community in finding the right e-gear for transportation according to their needs. Feel free to contact me at anytime for queries related to electric outdoor vehicles!