If you ever ask anybody to name the most costly part of an e-bike, their first answer would be the battery. It is also the most complicated part and requires regular maintenance to keep it running well and steady all along.
However, I don't need to lecture you on why electric batteries are so costly, why they have such complex nature OR other electric bike battery problems. Instead I will answer one of your most frequently asked questions i.e. How much does an electric bike battery weigh? I will also mention different types of electric bike batteries and how much they weigh so that you can have a better understanding.
By the end of this article, you will have a crystal clear understanding of the weight of different kinds of electric bike batteries and hence you will be able to make a better and well-informed decision while buying an e-bike.
I may as well also tell you that you might find all of this information a little overwhelming and hard to remember, so it would be better if you take notes or save up this article for future reference. So, with that out of the way, let's get down to real business.
How Much Does An Electric Bike Battery Weigh?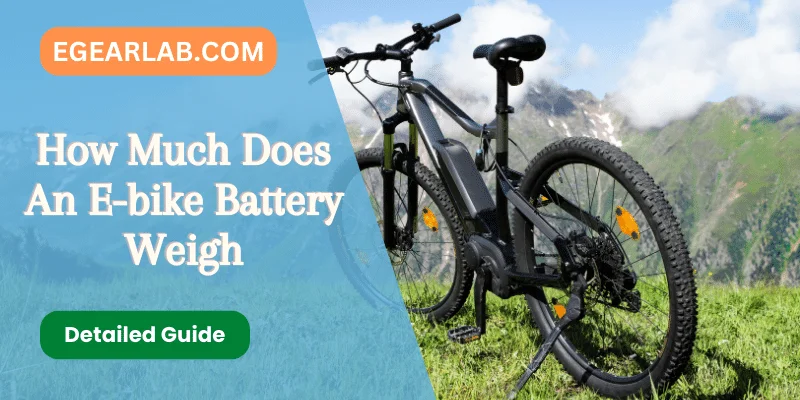 The battery of an electric bike is flat out the heaviest part of it. So, the biggest challenge for people who want to ride electric bike for long distance and like their bright bike lights is finding a battery that doesn't add considerably to its weight.
It might feel like an impossible task but really it is not. You just have to have a thorough understanding of different kinds of electric bike batteries and how much each of them weighs. The good news is that you don't have to look further because all the information you need is mentioned below!
Types of Electric Bike Batteries and their Weight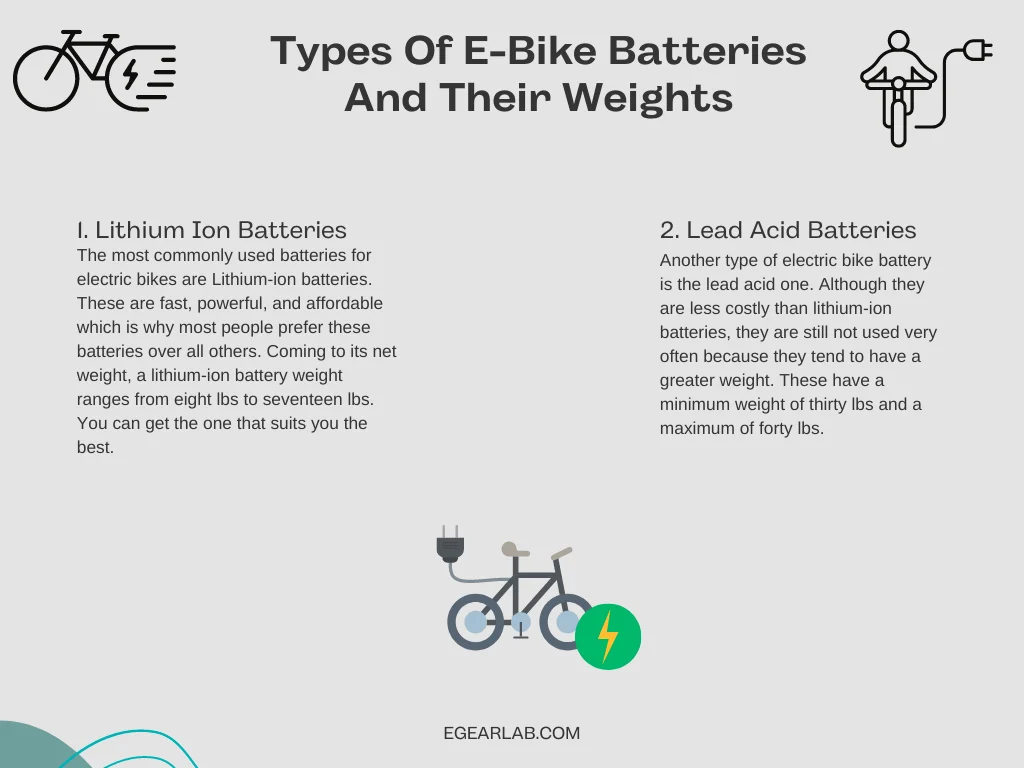 1. Lithium Ion Batteries Weight
The most commonly used batteries for electric bikes are Lithium-ion batteries. These are fast, powerful, and affordable which is why most people prefer these batteries over all others. Coming to its net weight, a lithium-ion battery weight ranges from 18 lbs. to 26 lbs. You can get the one that suits you the best.
2. Lead Acid Batteries Weight
Another type of electric bike battery is the lead acid battery. Although they are less costly than lithium-ion batteries, they are still not used very often because they tend to have a greater weight. Lead acid batteries have a minimum weight of thirty lbs. and a maximum of forty lbs. So, you can imagine why people would like to pass using this e-bike battery when given a choice between lithium-ion batteries and lead-acid batteries. You can also read a detailed guide on how do I reset my Ebike BMS battery.
Factors Affecting the Weight of an E-Bike Battery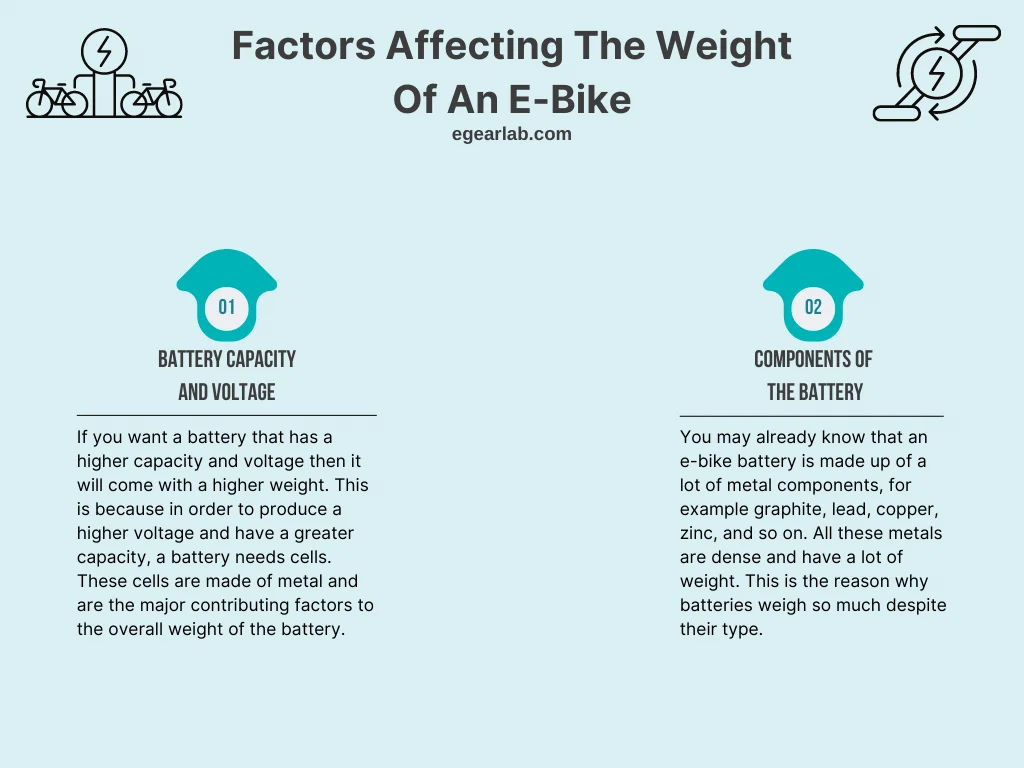 1. Battery Capacity and Voltage
If you want a battery that has a higher capacity and voltage then it will come with a higher weight. This is because in order to produce a higher voltage and have a greater capacity, a battery needs cells. These cells are made of metal and are the major contributing factors to the overall weight of the battery. The higher the number of cells in a battery the higher the voltage, capacity, and weight of the battery.
2. Components of the Battery
You may already know that an e-bike battery is made up of a lot of metal components, for example graphite, lead, copper, zinc, and so on. All these metals are dense and have a lot of weight. This is the reason why batteries weigh so much despite their type. After knowing the high weight of ebike battery, you may also want to know how to carry spare ebike battery.
Frequently Asked Questions
Do electric bikes have a weight limit?
Of course, all electric bikes have a weight limit. An electric bike for everyday use has a weight limit of two hundred to three hundred pounds. It means that you can put a load of as much as two or three hundred pounds. Any higher and your bike will break down under the crushing weight. However, rest assured that a weight carrying bike can carry a weight ranging between four hundred to six hundred pounds.
Does the weight of your e-bike matter?
Of course, the weight of an e-bike matters a lot especially if you have a petite physique and can't carry a lot of weight around. I mean how would you feel if you had to carry a bike that weighs a hundred pounds? Exhausted, right? In fact, it would turn out to be such a burden that you would much rather walk than take a ride on that heavy bike. However, the most effective way to cut down on the weight of the bike is by getting a battery that has a lower weight.
Why are e-bike batteries so heavy?
The e-bike batteries are especially heavy because of the metal components they are made of. They had all kinds of heavy metals inside such as graphite, lead, lithium, zinc, and so on. Moreover, all batteries have metal cells fixed inside that are the major contributing factors to the overall weight of the batteries.
Final Thoughts
So, this was all from my side. I hope you all could benefit from this information and take notes where necessary. It is a given thing that electric bike batteries are heavy owing to all the components inside. They are also the major parts of the bikes that add to the overall weight of the bikes. Now, it is up to you to find a battery that weighs less and is equally efficient.

Hi, I'm Robert A. Cannon, Electrical Engineer by profession and travel enthusiast! I has been passionate about building electric circuits and remodeling since my childhood. Following my passion, I graduated as an Electrical Engineer from University of Houston and turned my passion into a profession. I have worked in different electric vehicle manufacturing companies.
Following my professional expertise and experience in using different electric vehicles, I started EGearLab to assist the community in finding the right e-gear for transportation according to their needs. Feel free to contact me at anytime for queries related to electric outdoor vehicles!