It is expected that skateboarding will reach $2.4 billion by 2025, making it one of the most successful markets. Electric Skateboarding is becoming one of the most popular hobbies among younger people and has become a trend. Young people want an electric skateboard with a sleek, fascinating design and fine speed within their limited budget. Is that too much to ask for under 500 dollar electric skateboard?
Due to the intense competition in the market, electric skateboard manufacturers strive to offer quality products at affordable prices. Thanks to technological advancements, skateboard manufacturers have become able to build skateboards of top quality while reducing costs.
This article compiles a list of the best electric skateboard under $500 to help you skate easier to find one for your enthusiasm. For educating our readers on safe boarding, I provide you with safety tips for riding skateboards. Moreover, a complete guide to buying electric skateboards later in the article will be helpful, so stay tight.
Best Electric Skateboards Under $500 Overview
9 Best Electric Skateboards Under $500 Review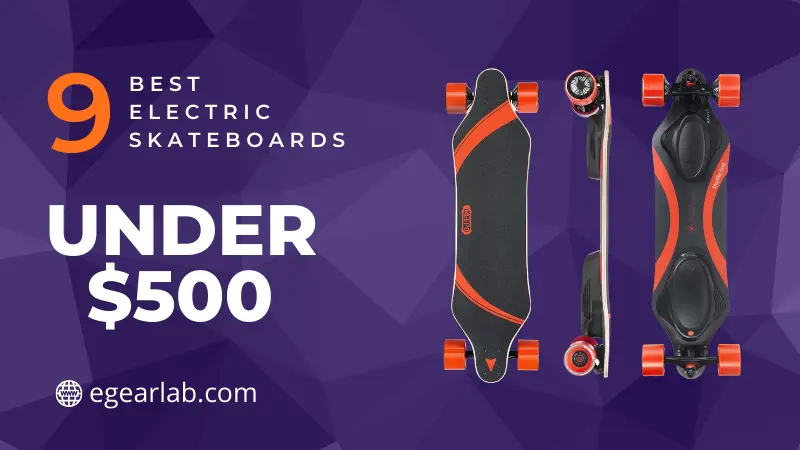 We have personally tested and analyzed each of these electric skateboards for complete details. I dissected various features to understand how they work and their pros and cons. In addition, to provide an authentic review, I compared these products with the previous versions to make it easy for you to decide while choosing.
1. MEEPO Shuffle(V4) Classic Electric Skateboard
MEEPO has a reputation for providing quality products. Our Meepo Shuffle V3 became obsolete, and I thought of upgrading to the MEEPO Shuffle V4. When I searched for the best electric skateboard under 500 Reddit, I found Meepo V4 in the top three, which intrigued me. I received our package and got Shuffle V4, remote, Manual, T-tool, and chargers for the skateboard and remote.
When it comes to the overall shape and design of the body, the red and sleek greyish design makes it enticing for the riders. The most crucial aspect I like about it is that the wheels are of offset core, making it softer on the edges, leading to a better and more comfortable skateboard ride.
Featuring 8-PLY Canadian maple and 1-PLY fiberglass, the Meepo V4 comes with a deck that can hold up to 150 kg/330 lbs. I found that the 36-inch deck allowed a short turn radius and a shorter wheelbase which was helpful in cities. Especially the shredder trucks for hill climbing that exhibit better stability.
Additionally, it has the LingYi ESC- an electronic speed control system that works with a push to start button to control speed. While riding, I found it to be quite impressive as it has the perfect speed modes, and the brake system was robust.
One of the main aspects that I look into is the motor. It comes with 640W dual hub motors, which are way better than the Meepo V3, which had a 540W hub motor. On the other hand, it has the IPX6 waterproof certification, making it dustproof and water-resistant, which was reasonably assured.
The MEEPO V4 used 10S2P| 4 amp with 144 Watt-hours for the battery. Mainly, I was impressed by the battery range that lasted for almost 17 km or just above 10 miles with a top speed of 29mph. Moreover, it comes with fast charging, which is a plus point.
After riding, I found it to be stable, and the deck with a W-shape concave was pretty comfortable. On the poorly paved road, it was not as smooth as it should be as hub boards have a history with rough pavements. Compared to the Meepo V3, the torque is 30 percent greater, and the acceleration curve on the steeper road is better.
Why I Recommended MEEPO Shuffle Electric Skateboard
This skateboard is the best electric skateboard under $500 for all entry-level enthusiasts because of its effective ESC, better performance, and push-off auto start. In addition, the stability and fast charging have earned it a good name among the e-skate community.
2. RazorX Electric Skateboard
Razor is famous for making electric skateboards for kids and beginners. I reviewed the RazorX Electric skateboard to determine whether this claim is correct or not. I received our package and, after unboxing it, found the black color skateboard along with the manual, remote, and charger with it.
The all-around body was fine, and the deck length and width provided a comfortable standing place for kids. When you say, the material was 5-PLY wood that was durable but not more than fiberglass. No doubt, it was lighter and could hold up to 220 pounds.
Whether it is just a low-budget electric skateboard, RazorX Cruiser comes with a powerful motor of 125 watts. It reached about a maximum of 9mph on the ride, but the mentioned speed is ten mph, and I found it a little noisy or loud. In addition to that, the lithium-made 22V battery. For making this toy more catchy, there are indicating lights for the battery charging.
Note: Its battery declines faster while climbing up.
The most important aspect is its remote control. It does have a 2.4 GHz remote that lets you control the speed and braking system. It also comes with a wrist wrap that makes you strain-free from holding the remote. The soft-start technology is quite efficient concerning control and efficient functioning.
The kingpin trucks and urethane wheels provide a stable ride if I discuss the stability. Yet if the wheels would be a little softer, it would be great. The perforated grip tape is thoughtful for better foot grip and a comfortable stand.
Why I Recommended RazorX Electric Skateboard
After assessing all the features, I found it only for beginner young kids who can use it as good starting gear. It is a pretty helpful toy with soft-start technology and reasonable remote control.
3. Hiboy S11 Skateboard – Best Electric Skateboard Under $300
Hiboy is one of the most affordable brands providing quality and durability. Having all these thoughts, I bought Hiboy S11 Electric Skateboard and received it in black color with the green Hiboy logo on it. I found the User manual, board, charger, T tool, and remote with it.
Design and first impression play a significant role in selecting a skateboard. For the design and body aspects, it has a perfect structure and builds quality. It is made up of maple wood like Hiboy HS 22 and has a 7 layers deck, making it durable.
When I discuss the motor – the main machine, the powerful motor of 350W, with torque made it climb the hills and its battery does support it while all these endeavors. The trucks and higher chassis make it less stable and increase the user experience. Additionally, large 70mm wheels bring a more steady ride.
We rode it for a couple of weeks and found it goes up to a maximum of 11mph, not more than that, and with a heavier rider, it goes a little lower than this. The most prominent factor of this skateboard is the 4 speeds and 4 braking modes.
You can go from slow to fast with different modes, and the same goes with brakes from fast to slow. Moreover, the remote control system has different indicators and modes and helps you control your ride precisely.
A considerable battery that takes its range to 9 miles is quite a feature that every beginner admires in this price range. Furthermore, it can bear up to 220 lbs, and its weight is about only 8lbs, making it a pretty lightweight gear.
Why I Recommended Hiboy S11 Electric Skateboard
With the features like 4 riding and 4 brake modes, it does have the versatility that makes it an ideal best electric skateboard under $300. Despite having issues going uphill, it has a pretty good performance overall.
4. Aceshin Skateboard – Best Off-road Electric Skateboard under $500
We had high expectations from the Aceshin Electric Skateboard before I ordered it. When the box reached, I unboxed it, and there was a black-colored skateboard, power adapter, remote, USB cable, a wrench, and a user manual. The comprehensive nature of the product caught our attention right away.
The durability and toughness matter a lot in an e-skate structure. Luckily, this skateboard is made of 8-layer maple wood, which shows its fine build. I am a rough rider, and for me, it is essential to have high-quality material and fulfill the requirement.
It can hold up to 80kg, valuable for kids, teens, and adults. Most skateboards do not come with handles, and you have to lift them, but I found it easy to lift with the help of the handle it has with just about 8.6lbs net weight.
Let's talk about the motor; It comes with a 350W hub motor for power and performance. I climbed on hills, straight paths, and off-road to review this. Surprisingly, it appeared to be quite powerful, and it was not as noisy as I thought it would be. The 20 mph speed of this skateboard can be pretty impressive for those looking to beat the traffic.
You are correct to say the battery is the critical component in an electric skateboard. With about 2000mAH battery, it has a range of about 10 km per charge. I found the colored indicators quite fascinating. Additionally, if you are not using it for about 10 minutes, it will turn off automatically, which makes it eco-friendly.
Now come to the most efficient board part, the wireless remote control. The 2.4GHz remote helps you control your ride smoothly and has a 14-meter range to control it while away, which is quite convenient.
It has an improved braking system that makes it easy to stop. You can have holistic control over your movement forward and backward. The Polyurethane wheels of 73mm make it exceptionally stable and less shaky. Moreover, three-speed modes allow you to commute at the acceleration you like.
Why I Recommended Aceshin Electric Skateboard
It is undoubtedly one of the best electric skateboards with better performance, well-built quality, better remote control system, and exclusive battery life. Yet, it has a smaller deck width that has room for improvement.
5. Puaida P6S Longboard – Best Electric Longboard Under $500
Apart from its reputation for sturdier skateboards with solid functionality, Puaida skateboards are also highly regarded for their powerful performance. I ordered the Puaida P6S electric skateboard for review. I found a purple P6S Electric skateboard, manual, remote control, USB cable, and a T tool within the box. I tested it straightforwardly by taking a ride for about a week to analyze different features deeply.
The first thing that I liked about this esk8 is that its expansive deck of 11 inches gives enough space to stand and brings stability. The deck is made up of maple wood 8-layered, which in this price range is the ideal material and can lift to 280lbs.
Among people interested in boardies, speed and acceleration are particularly important. This skateboard can reach a speed of 19mph, which is quite enough to cruise freely on the street and raise adrenaline. Interestingly, Puaida 6S is relatively slower than Puaida P6D, which can go 25mph but can go heavy on your wallet.
When you ask for a motor, it has a 400-watt motor that is quite powerful to skate on the roads and climb the hill by about 20%. Moreover, the battery takes 3 hours to charge and ranges up to 18 miles. The trucks are pretty flexible and durable with proper carving and turning.
For better user experience, the remote control system is quite intelligent, making it easy to use. I enjoyed back and forth movements and the 4 different modes of speed and brakes that I used in cruising in the blocks near our house.
The remote comes with a Display that provides visual information, a plus point. The Brake system is quite a topic on this board. When it comes to straight and smooth roads and tracks, even off-roads, the EBS system works excellent. On the other hand, you need to be careful on steeper roads because it is not that efficient.

Why I Recommended Puaida P6S Electric Skateboard
Puaida 6S offers an impressive set of features such as tail-lights, a remote control system that allows for ease of use, and a 6-month warranty, making it an excellent choice for beginner and intermediate enthusiasts. Additionally, it has an EBS brake system, one of the functions of advanced electric skateboards.
6. Possway V4 Electric Skateboard
Possway offers top-quality electric skateboards designed for beginners and intermediate skateboarders. Possway V4 is also one of their cheapest electric skateboard. The ocean blue color and simple design caught our attention, and I decided to review it.
We ordered and had quick delivery. I unboxed it and received an ocean blue skateboard, USB cable, power cable, remote, user manual, and T tool. The very first impression was quite exciting because of the colorful w-concave shape.
After the ride, I was satisfied with the deck width, which was 9.1 inches, wide enough to stand while skating comfortably. The deck's structure comprises 8-layers Canadian maple wood, making it durable and withstanding.
If you can compare it with a little expensive Possway T2, which comprises 1 PLY bamboo and 8 PLY maple and is more durable. It can lift to 220 lbs, and gripping paper is also entirely appropriate.
Many skateboarders ask why the motor is substantial, and the answer is that it is the central unit of your boar. Possway has the 2 motors unit of 700W that makes it powerful to help you ride on rough and challenging roads. Moreover, it makes you capable of climbing the hills with better torque and carving.
With a top speed of 15mph and a range of 10 miles, I found it a pretty impressive unit running on a 4000mAH battery. In addition, 3 different speed modes, from slow, medium, and fast, also helped us skate according to traffic and people around us.
Everybody wants ease of use from the things they spent a chunk of money on. The remote control system is very efficient and conforms to your price. With the 15 yard range, the wireless remote control lets you control your esk8 properly.
Why I Recommended Possway V4 Electric Skateboard
We have concluded that dependable features like a powerful motor, lasting battery, and beautiful design make it the best choice for beginners. Nonetheless, it does not have water resistance and proofing, which is the only downside of this e-longboard.
7. Teamgee H20 Mini Electric Skateboard
We heard a lot about the sturdiness and top-grade quality of this fish-shaped TeamGee H20 mini electric skateboard. Well, honestly, it does have the quality. I found the board, remote, cables, and manual when I unboxed it. Due to its unusual shape, this skateboard caught our attention.
We were amazed to see such features below under the $500 skateboard. I tested every feature thoroughly to find the truth behind the hype, and gladly hype is real. The deck with kicktail was made up of 7-ply maple wood that can bear up to 286lbs of weight, which is pretty remarkable and helps maneuver the streets nicely.
For all speed-oriented skateboarders, the TeamGee H20 mini has a speed of 24mph, a little less than the Teamgee H20, which is very impressive in this price range. In addition, the tremendous motor of 900W makes it one of the most powerful boards. When it comes to climbing hills, I found it to be very effective when it comes to climbing hills because of its 25% incline.
If you discuss the stability and durability, it does have high-quality PU wheels of 54 Millimeters that maintain the balance and road grip perfectly. In addition, it is a UL-certified electric skateboard for safety, making it credible and a strong contender for the best off-road electric skateboard under $500.
Moving forward to the remote control system, the wireless remote lets you have your board freely with every control in your hand. Having a 20-meter distance, you are free to operate your skateboard to change the speed modes and apply brakes.
Why I Recommended Teamgee Mini Electric Skateboard
Teamgee H20 Mini has no competition in this price range for speed and durability. The extraordinary remote control and powerful motor make it ideal for intermediate and pros. Despite some battery issues, overall, it is a complete product.
8. Backfire G2 Black Electric Skateboard
Backfire is one of the world-renowned skateboard brands that manufacture great e-boards like G2, G3, Backfire Hammer, and many others. When it comes to budget skateboards, Backfire is one of the reliable names. For this reason, I chose Backfire G2 Black for my review list of the best electric skateboard under $500.
On unboxing the new Backfire G2 that came in a sturdy box, a New Backfire G2 Black-rather was dull in design. Moreover, T Tool, Extra Hex keys, Hobbying Remote, Charger, USB Cable for Remote, Battery Diagnostic Cable, and Extra Hardware Screws were in the box.
We have been using Backfire G2 for a while now, and I feel that it is a top-quality entry-level skateboard. The reason is simple – smooth and stable ride. Luckily, it has a deck 9 inches wide and 38 inches long but is not as concave as it should be.
We did leap on it a few times while riding for the flexibility test, but it wasn't as flexible as advertised. The wheel made up of Polyurethane of 96mm makes it pretty stable to ride on and off-road easily without any wobble.
It comes with two 400w hub motors that are powerful enough to climb onto hills and provide a smooth road ride. When discussing the Front & Back 7-inch Trucks that make it balance and carving on the road, it comes with proprietary trucks, not the specialized ones in the case of Backfire Zealot – a little expensive one.
The battery stands the deal makers in the esk8 scenario, and it has a range of about 20km with an 80kg rider. In this edition, the battery is appropriately sealed yet not waterproof, so you need to be careful on the wet off-roads.
Now let's move to the board's brain, the LCD- remote control. G2 does have a pretty special Hobbywing ESC. It comes with Eco and sports mode, as a beginner you should go with Eco and others can for Sports mode. ESC has perfect speed control and the reverse-gear mechanism that I found remarkable.
Why I Recommended Backfire G2 Electric Skateboard
Our final verdict declares Backfire G2 the finest skateboard because of its build quality, better braking mechanism, and tremendous speed. You need to be careful in wet areas as it is not waterproof – a prominent downside.
9. Atom Electric B10 Skateboard
Atom Electric B10 skateboard is a kind of surprisingly elegant skateboard from Atom. I discovered Atom B10 – a shortboard with a handle on the nose upon unboxing. In addition, there was a battery charger, remote control, USB cord, Skate tool, and manual.
We had thought of it as a toy at first, but when I took a ride, it made us change our narrative about it. It is no doubt a very powerful shortboard with a 1000W Brushless Direct Current belt-driven motor in this compact design.
Tip: Avoid still starting your board since doing so puts a lot of strain on the belt.
The low gravity deck made of maple makes it stable and less shaky. It can take up to 275lbs, but the manual suggests the weight should be 200 lbs. The width of the deck is about 9.1 inches and has a perfect grip also. Moreover, the 80mm wheels add more balance to it.
Moving to the battery, range, and speed, it does have about 7 miles range less than the Atom H10, which has a range of 9.3 miles. But, when it comes to the powerful motor, it does beat Atom H10, which has a 700W motor.
It has a speed of 16mph, and torque is about 12% more than H10, which helped us climb easily, keeping the battery juice. The lithium-ion 2.5Ah battery takes 2 hours to charge.
When it comes to its remote control system, it has an exceptional mechanism that helps us control the board without any hassle. I skated on hills, smooth and rough roads, which helped us manage properly. FOC (Field Oriented Control) software helped us reach perfect acceleration and manage the full torque of the motors.
It comes with two speed modes, slow and fast, and the same with the brakes. The regenerative braking system makes it an eco-friendly board. You need to be careful about braking as these are not that powerful.
Why I Recommended Atom Electric B10 Skateboard
If you are just starting into the boardies, Atom H 10 is the perfect choice with the intelligent ESC, handle for easy carrying, and robust motor. Furthermore, I liked the regenerative braking system that makes it apart from others.
Safety Tips for Beginner Electric Skateboarders
You need to take good care of your esk8 for your safety. The most promising thing is to keep it in an intact and flawless state that will take care of you in return. You can do these things to keep your electric skateboard well maintained.
Factors to Look for while Buying under $500 Electric Skateboard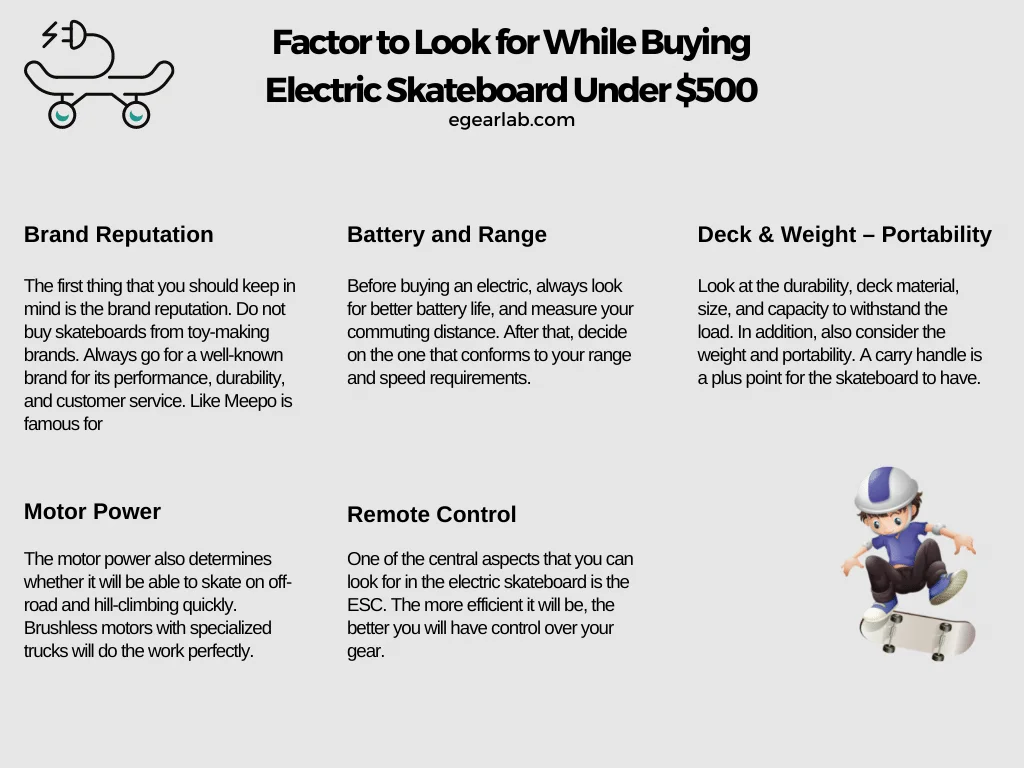 Brand Reputation
The first thing that you should keep in mind is the brand reputation. Do not buy skateboards from toy-making brands. Always go for a well-known brand for its performance, durability, and customer service. Like Meepo is famous for
Battery and Range
Before buying an electric, always look for better battery life, and measure your commuting distance. After that, decide on the one that conforms to your range and speed requirements.
Deck & Weight – Portability
Look at the durability, deck material, size, and capacity to withstand the load. In addition, also consider the weight and portability. A carry handle is a plus point for the skateboard to have.
Motor Power
The motor power also determines whether it will be able to skate on off-road and hill-climbing quickly. Brushless motors with specialized trucks will do the work perfectly.
Remote Control
One of the central aspects that you can look for in the electric skateboard is the ESC. The more efficient it will be, the better you will have control over your gear.
Frequently Asked Questions
Are electric boards worth it?
The electric boards are environmental friendly as they emit no carbon, provide you with a sweat-less ride without any physical strain, and saves time. With this glimpse, you might have gotten the answer that electric skateboards are worth buying.
How long do electric boards last?
The electric boards are very durable and withstanding if you don't count the belt and wheels ( they wear out). By checking all the screws and trucks and keeping everything intact, it can easily last up to 2-3 years.
Can you use an electric skateboard as a regular skateboard?
The main difference between the electric and non-eclectic is that the former has the battery and the latter does not. Usually, the electric skateboard battery ranges well, but you still get out of the range. Then yes, you can use it as a simple non-electric board when the battery dies.
What motors are used in electric skateboards?
Mainly, two types of motors are used in electric skateboards. The hub and belt-driven motors. The hub motor will have less torque and bad braking but less noise and maintenance. On the other hand, a belt-driven motor will have better brakes, torque, and more maintenance.
Are electric skateboards safe for kids?
If your kids are 16 years or more, it is acceptable for them to ride electric skateboards. Electric skateboards are very fast and can not be controlled by kids, and they are not safe for them to use.
Final Thoughts on Under $500 Electric Skateboards
We have got to the end of our journey together for now. However, for the time being, we will leave you with the most reliable reviews about the best electric skateboard under $500. If you need a fast glance at our top 3 picks of the best electric skateboard under $500, we suggest these for your convenience if you are caught short.
On top of that, We included safety tips and maintenance information for electric skateboards to help educate our readers and keep their e-boards in tip-top shape for years to come. Forbye, a buying guide lets you choose your budget electric skateboard.
Keep Pushing Your Boardies!