Electric skateboards have become a famous trend among adults and teenagers as they can be used even by beginners. They provide good speed and smooth rides to riders. These skateboards are controlled by a remote controller and you can adjust the speed to match your liking. You can also stop an electric skateboard by shifting weight to the rear and forward for speed.
However, finding a suitable electric skateboard at a cheap price is hard and there aren't many options available on the market. Most of the electric skateboards are overpriced and it has become harder for beginners to buy them.
To help you buy the best affordable electric skateboard, I have tested many of them and chosen the 10 best electric skateboards that are not just cheap but also perform well. A buyer's guide is also available to help you understand the main factors responsible for a good electric skateboard.
Best Cheapest Electric Skateboards Overview
10 Best Cheapest Electric Skateboards Review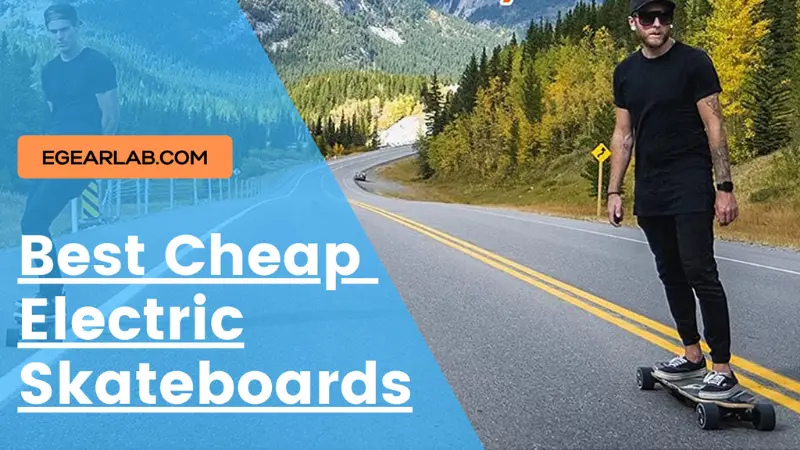 1. Backfire G2 Black Electric Skateboard
The Backfire G2 is a budget-friendly electric skateboard that is equipped with a powerful motor that can reach a top speed of 24-38 kph with ease. There are different modes available for beginners and experts making it a good option for every user. It comes with 2 customized hub motors that are designed thinner but longer for better weight reduction.
This skateboard can hold up to 240 pounds and has wheels made up of polyurethane that ensures a smooth ride while being durable. Furthermore, it has a 9 inches wide deck allowing you to fully control and stand on the skateboard with perfect balance.
The skateboard has a simple and ergonomic design and its outer shell is made up of maple hard rock that is flexible and strong. It is made up in such a way that it provides total support to feet while riding or rotating. Moreover, you can control this skateboard through wireless remote control in case of emergencies.
Backfire G2 Electric Skateboard Features Overview
Efficient Engines And Tires
This electric skateboard is powered by two motors that are specially designed to be thinner and longer to reduce the center of gravity allowing better control. You can replace the motor and tires when one of them gets faulty.
Better Batteries
You can either choose a 5.0 Ah or 6.0 Ah battery and depending upon what you choose speed will differ. With a 5.0 Ah battery, you can get up to 8 miles range on speed mode and 12 miles on eco mode. While with 6.0 Ah, you get speed mode up to 12 miles.
Durable Construction
The skateboard is made up of polyurethane and an outer shell of maple hard rock which is flexible yet sturdy. Each battery is packed and fixed to ensure it prevents any damage at high speed. The hardness of 83A shows that this electric skateboard is durable enough to withstand high speed.
Why I Recommended Backfire G2 Electric Skateboard
To summarize, the Backfire G2 is a smooth-moving electric skateboard that is durable and provides a safe ride. The battery lasts a long and can cover a range of up to 12 miles on speed mode. It is an ideal choice for beginners or people looking for medium-speed skateboards. However, if you are a fan of high speed and don't like medium-speed skateboards, there are faster skateboards available.
2. RazorX Electric Skateboard
The RazorX is the second cheapest electric skateboard on my list that is durable, fast, and long-lasting due to maple construction and a 125-watt motor. It can speed up to 10 mph and last for 40 minutes of continuous use. Furthermore, it offers almost 30 inches wide giving you a lot of space and better control.
This skateboard comes with a wrist strap that is wirelessly connected with the skateboard and allows change speed when turning or when needed. The skateboard can hold up to 220 pounds in weight and weight only 10 pounds making it easier to move around.
In speed mode, this skateboard can go up to 22 mph and if your weight is around 120-130 Pounds or less, it can easily climb hills. The 80mm wheels ensure that when turning the speed impact doesn't affect the balance and minimizes the center of gravity. It ensures you get a smooth and responsive ride while cruising.
RazorX Electric Skateboard Features Overview
Enhanced Speed
This electric skateboard is powered by a 125-watt motor that is present under your feet and can reach up to 22 mph speed. It takes just a couple of seconds to start and reach the maximum speed.
Smooth Ride
It features a rear-wheel-drive motor that ensures a smooth and responsive ride protecting you while turning. Furthermore, it is there for safety when turning around at a high speed, you need something to protect you from speed impact and these wheels drives are there for that.
Easier Controls
You can change the speed using the remote control that can be worn on your wrists and it features variable speed modes to help you control the skateboard while moving.
Why I Recommended RazorX skateboard
To conclude, The RazorX skateboard would be the best electric skateboard for kids and even adults can ride it but the speed decreases as the weight increases. So, it won't be fun for adults but still, if you are looking for a not-so-fast ride then you can choose this skateboard as it has a wireless remote control and impact prevention wheels.
3. DresKar Electric Skateboard
The Dreskar is a fast and powerful affordable electric skateboard that is suitable for all levels including beginners due to its three-speed level adjustments. It is equipped with 900-watt dual hub motors that can easily climb up to hills and provide speed up to 40 kph. Furthermore, it ensures a smooth ride at a faster speed than other skateboards.
You can adjust the speed using the wireless remote control even while riding. It uses batteries that can last up to 12.5 miles on a single charge. The wheels used in this skateboard are smooth and don't hurdle making your ride secure.
This skateboard is made up of maple wood and bamboo making it flexible yet sturdy enough to hold up to 286 pounds in weight. It is designed in such a way that it can be carried around easily in hands. Moreover, it offers one-year support and a warranty that covers almost all hardware parts.
If you're new to skateboarding then read a detailed guide on how to ride a skateboard for beginners
DresKar Electric Skateboard Features Overview
Fast And Secure
Powered by 900-watt motor hubs that are brushless and can climb up to 25% degree slope with ease. It can reach up to 40 kph within a couple of seconds while providing a safe and secure ride due to its PU-quality wheels.
3 Modes For Speed
This skateboard features 3-speed modes for all levels of riders, the low mode offers 9.3 mph and the medium mode provides 15.6 mph while the fast mode can go up to 25 mph and you can choose from any of them while riding.
Why I Recommended DresKar Electric Skateboard
In the final analysis, The Dreskar electric skateboard delivers speed while being a secure ride and you can pull the front of this board to 25% height to get maximum speed. It features multiple modes allowing beginners and professionals to enjoy the ride and it has a battery that lasts long enough for a 12 miles ride. If you have a budget then this would be the best electric skateboard at a cheap cost.
4. Meepo V3 Electric Skateboard
It is an upgraded version of the V3 that gets you a top speed of 19 kph and comes at a relatively cheaper price than other electric skateboards. It can hold up to 300 Pounds and its wheels are made up of polyurethane ensuring a safe and smooth ride every time. All of the skateboard outer parts are sealed and glued making it waterproof allowing you to ride it even in rain.
The deck is 38 inches and made up of Canadian-maple wood giving you enough room to fully control the skateboard while ensuring durability. It remains stable and sturdy even on rough surfaces.
The battery has a range of 11 miles and takes less time to fully recharge and it can take 300 lbs weight at 30% grade hill height. It comes with an M4 remote controller that allows you to change speed when turning corners.
Meepo V3 Electric Skateboard Features Overview
Hub Motors And Wheels
Meepo hub motors are the strongest motors available on the market and this skateboard contains two 540 watts motors providing you with a fast ride. It comes with Meepo PU wheels that are shock-absorption giving you a smooth ride.
Easy-Carry Handle
This electric skateboard can be carried easily in your hands due to the handle present and it fully packs the whole skateboard into one unit.
Fully Sealed
All of the electronics in this skateboard are fully sealed that don't allow dust or water to get in, making your skateboard viable for rainy rides.
Why I Recommended Meepo V3 Electric Skateboard
To summarize, the Meepo V3 is a top-class electric skateboard that outranks its competitors with its smooth and fast ride experience. The batteries last longer than other skateboards and you can ride this in the rain as it is waterproof. Furthermore, it can be controlled remotely and is made up of durable materials making it the best electric skateboard for all ages.
5. JKING Electric Skateboard
The KING is another skateboard on my list that is a budget-friendly electric skateboard due to 28 inches wide deck and load capacity of 160 Pounds. Its wide deck gives you full control over the skateboard and 350-watt hub motors give you a top speed of 12.4 mph. The whole skateboard weighs only 5 kg making it easier to move around in your hands.
It makes little to no sound due to brushless motors and can be used as a regular skateboard. Furthermore, you can control this skateboard via a remote controller. This allows you to adjust speed when turning on corners.
It comes fully assembled and has a waterproof surface and you can freely switch from accelerating to brakes. The non-slip surface protects you and prevents falling due to speed impacts.
Read a detailed comparison of one wheel vs electric skateboard
JKING Electric Skateboard Features Overview
High-Quality Wheels
The wheels are of 80A hardness and are 70mm in size giving them better elasticity on unequal surfaces. Furthermore, the smoothness of wheels gives you better speed and is durable enough to survive on hard surfaces.
Efficient Motors
The brushless motors are reliable and less noisy and you can use this skateboard without motors as a regular skateboard. With 350-watt hub motors, you can reach the top speed of 12.4 mph with ease.
Time-saving
It arrives in ready-to-use mode and does not need any sort of assembling, which saves time. As soon as you get it out of the shipping box, it's easily useable. Moreover, it also has carrying space which makes it easily portable.
Why I Recommended JKING Electric Skateboard
In conclusion, the JKING skateboard works awesomely well in terms of speed and performance considering its price. It is fast and durable enough to provide you with a smooth ride and can even climb onto hills. Moreover, it comes at a fair price and is suitable for 12+ ages as the weight is a bit high for kids.
6. OppsDecor Electric Skateboard
The OppsDecor electric skateboard has long-range and high speed due to 250-watt motor and lithium batteries that can cover a range of 12 miles per charge. It takes only 2 hours to fully charge a battery allowing you to ride it frequently. The deck is 35 inches wide and made up of 7-ply maple that is lightweight yet strong.
It comes with a wireless remote controller that allows you to select from 2 modes depending upon your needs. The wheels are highly durable and flexible for better control over the tracks while moving fast.
This skateboard weighs only 11 pounds making it easier to carry it around with arms or hands. It is recommended for all people that are over the age of 12. Furthermore, it can hold a load up to 286 pounds while ensuring a fast and secure ride. The skateboard is responsive and delivers maximum control over it ensuring a smooth ride.
OppsDecor Electric Skateboard Features Overview
High-Grip Wheels
It comes with PU wheels that reduce shocks and create a stable and balanced even at high speed to ensure a smooth and safe ride. They are made up of sturdy material making less chance for any accident.
Wireless Remote Control
With the help of 2.4 Wireless technology, you can change the modes from speed to brakes using a remote controller while riding. The remote controller has LEDs that indicate the status of batteries to help you recharge them when needed.
250w Motors
It features 250w powerful motors that can reach the top speed of 12 mph within a couple of seconds with ease. Furthermore, it doesn't make any noise and provide steady power to the wheels.
Why I Recommended OppsDecor Electric Skateboard
In the final analysis, this skateboard is one of the best electric skateboards that you can find at its price. The durability of the deck and wheels ensures that the skateboard lasts longer while motors ensure a fast yet smooth ride experience. You won't be disappointed with the skateboard performance and anyone of age above 12 can ride it.
7. JKING 3-Speed Modes Electric Skateboard
This is the smart electric skateboard with exclusive features that makes your ride smooth and fun making this one of the best cheap electric skateboards. It features lithium batteries that can cover a range of 7.6 miles and powerful motors that provide a top speed of 18.6 mph. Furthermore, the deck is 28 inches wide giving you enough room to stand and control the skateboard.
The skateboard weighs only 5 kg and is made up of waterproof PP materials. It isn't recommended to ride it on roads with deep water but you can ride them if the water isn't much deeper.
You can control the skateboard three modes of speed with a remote controller and the skateboard is portable enough to carry in arms. With its powerful motors, the skateboard can support a 10-degree climbing angle with ease.
JKING 3-Speed Skateboard Features Overview
Secure And Portable
It weighs only 11 pounds making it easily portable and it is made up of strong yet flexible materials making your ride safe and secure.
Powerful Motors
This skateboard comes with two brushless 450-watt motors that are quiet yet powerful and can reach a top speed of 18.6 mph with ease. Furthermore, the motor supports a climbing angle of 10 degrees for climbing up on hills.
Durable Wheels
It features wheels of 80A hardness and 83mm in size making your ride experience smooth and bump-free.
Why I Recommended JKING 3-Speed Skateboard
In short, the JKING 3-speed mode is the best choice for you as an adult as this skateboard can relive your days as a kid with its slow speed and you can reach fast speed by adjusting speed. Moreover, it comes with a remote controller and isn't heavy enough to carry it around and it can easily climb up to hills. The only downside is that it requires some skill to fully control the skateboard at full speed making it not for beginners with no experience.
8. JKING Maple Electric Skateboard
This skateboard is the same as the above JKING one and has almost the same features except that it's made up of six layers of maple and bamboo. It uses two powerful motors to reach the speed of 16.7 mph. The batteries once fully charged can cover a range of 8.2 miles and they can get fully recharged in 4 hours.
Its motors can support 12 degrees angle when climbing on hills and you can freely switch from brakes to speed and vice versa with ease. The skateboard doesn't weigh too much and can be easily carried around.
Even without motors, you can use this skateboard as the normal skateboard and ride it with your feet but it will require some basic skills. Moreover, with three-speed modes, even beginners can enjoy a smooth and steady ride.
JKING Maple Electric Skateboard Features Overview
Multi-Function Remote Control
You can switch freely from accelerating to brakes and to forward to backward with just a touch of buttons. It helps you enjoy a secure ride and helps you turn around corners if you are a beginner.
Longboard Construction
This skateboard is made up of 7 layers: 5 layers are of maple while the 2 layers are of bamboo. It can support a load of up to 200 pounds and its construction makes this skateboard strong yet flexible.
Why I Recommended JKING Maple Electric Skateboard
To summarize, this skateboard is the same as the last one but it can be used by beginners and it contains all the features as the old one. Different speed modes and remote control allow riding this skateboard easy. However, the grip is not on par with other skateboards available on my list.
9. Blitzart Hurricane Electric Skateboard
B Blitzart manufacturers provide the best of the E-skateboards, the Blizart 38'' hurricane electric longboard skateboard comes in Hurricane Black color with various beneficial features. It includes a 350W brushless hub motor, the latest wireless remote controller, and strong maple wood material with secure tapping.
This skateboard is designed for adults and has various options for other ages as well. Furthermore, the remote control is also rechargeable and comes with a wrist holder.
The material used for making skateboards is maple and bamboo wood. It weighs only 18.40 pounds and can resist up to 113 kilograms. The dimensions are 38 x 7 x 4.5 inches in length, weight, and height respectively. It also has exchangeable tires, carrying space, shockproof and anti-slip surface area.
Features
Blitzart Hurricane Electric Skateboard Features Overview
Stable surface
The surface area of the skateboard is stable as it uses maple wood as well as bamboo deck making it more secure and slipless. The mixed material of maple and bamboo gives the skateboard more flexibility, it is also coated with strong tape and is in a curved shape to give firm standing to the rider.
Speed and remote
The range is almost 6 to 10 miles with a speed of 19MPH. Moreover, it comes with a 36V, 4.0Ah, and 144Wh Lithium-Ion battery pack and it can be charged to the maximum in three hours. The remote is comfortable to hold and comes with modes from beginners to advanced, as well as controls speeding of the skateboard.
Hub motor
This skateboard uses a hub motor which makes it lighter, quieter, and faster than a normal belt drive motor. The power hub motor uses 350W. The hub motor gives off an eye-pleasing effect to skateboarders making it long, slim, and decent. The tires are replaceable and can be changed if scratched or as desired.
Why I Recommended Blitzart Hurricane Electric Skateboard
In conclusion, this budget electric skateboard is for kids looking for fun rides as it is recommended for ages above 8. It can cover a long range before it needs to recharge and you can get a speed of 19mph for a fun and speedy ride. The only drawback is that it is not a suitable choice for adults looking for thrill and faster rides.
10. Elifine Electric Skateboard
Elifine electric skateboards are the best choice for easy and smooth rides. 7 layers of Canadian maple wood are used on its surface, which makes it look simple, fancy yet strong, and flexible.
The whole board weighs only about 11 pounds and can withhold 220 pounds. It has the 250W hub motor battery with a secured 24V 2200mah Lithium Battery pack which can be charged in only 2 to 3 hours and it can speed max up to 20KM/H. Carrying handle space, tight battery, hub motor, charge slot, battery, three different modes including reverse mode and wireless remoter are the best features offered by Elifine electric skateboard to their users.
Elifine electric skateboard Features Overview
Easy to use
The skateboard is designed according to all types of roads, including bumpy and rocky ones to smooth lane roads. The use is made easy due to the 2G wireless remote controller which comes with indications of low battery, acceleration, and brakes with 4 LED indicators. This makes it easy and reliable to use.
Strong and secure material
The 8-ply maple using Computer numerical control machinery and trimming technique provides a safe and sturdy surface to the rider. Moreover, the hub motor is a powerful lightweight touch to it and makes the skateboard run better than a regular drive belt motor.
Wireless remote controller
Wireless remote controller comes with three different speed modes, reverse buttons, binding button, charging port, remote battery indicator, and reverse button. The batteries need to be charged and discharged once a month, as they are lithium it is recommended to fully charge them if stored.
Why I Recommended Elifine Electric Skateboard
To summarize, this electric skateboard is the best choice for youth and adults, the package comes with Electric Skateboard, Power Adapter, Remote Controller, USB Charging Cable, Wrench, and User Manual. The motors and wheels are there to protect you while giving you a fun experience on your ride. However, it requires charging constantly and doesn't last long as compared to others on my list.
Buyer's Guide to Choose Best Affordable Electric Skateboard
It is important to buy a suitable electric skateboard to get the best ride experience that is smooth and fun. Certain factors are responsible for that you need to carefully look for them on a skateboard. To help you understand these factors, I have written this buyer's guide and after reading it, it would be easy for you to choose the best electric skateboard for yourself.
Motor And Battery
Electric skateboards require motors and batteries to function and there are some electric skateboards that you can ride without motors. However, the main purpose of electric skateboards is to automatically provide a ride. Hub motors are the most common because of their powerful yet quiet performance with fewer problems. On uneven tracks, a brushed motor is an optimal choice and on even roads, brushless motors would be the best. You can use a brushless motor on uneven tracks however you can speed up too much or else you will fall.
Brushless motors are cheaper as they require no maintenance and provide a smooth and fast ride to riders. You can choose the power rating of the motors according to your need and some skateboards come with dual motors for a faster ride.
To power a motor, you need a battery and since motors are for riding a skateboard with you on it, the batteries have to be good. Lithium-ion batteries are commonly used for this purpose as they are doable and long-lasting. They are measured in Ah and a good battery can cover a range of more than 10 miles with ease.
Speed And Range
These two terms are directly related to the motor and battery your skateboard has. Motors are responsible for the speed provided by an electric skateboard while the range it covers depends on the batteries. A good and budget-friendly electric skateboard has a speed of 10 to 30 mph while they can cover a range of up to 15 miles. If you want more range and speed then you will have to pay more.
Remote Control
To control speed and brakes, you either need to ride the skateboard without motors or need a remote controller. You need to hold the controller while riding so the comfort of the controller is important. Most electric skateboards offer a wrist strap with a controller so that it won't fall when you are riding. The controller allows you to accelerate, brake, move forward or backward. There might also be LEDs for battery indications and some even have mobile apps for controlling it through smartphones. Make sure that the battery is fully charged using the remote controller for a smooth ride experience.
What is the common price for an electric skateboard?
An electric skateboard can be as cheap as 200$ and as expensive as 4000$ and you can choose according to your budget. Be sure to choose the one that performs well according to its cost.
You can have a look at best electric skateboards under 500
Concluding Affordable Electric Skateboard Review
There are various skateboards available on the market and it is important to choose the one suitable for the ride and factors like durability and price are also important. For that reason, I have tested electric skateboards and reached this conclusion.
Best Overall – Meepo V3 Electric Skateboard as it provides enough speed and is durable enough to sustain fall damage multiple times. It won't disappoint you while you go on long rides as it comes with multiple batteries.
Cheapest Electric Skateboard – Backfire G2 Electric Skateboard as it can reach the top speed of 38 mph with ease, it will be a fun experience riding on it if you have some experience with skateboarding.